Good Morning and welcome to another Friday in a long line of Fridays!
Sometimes, you need a little adventure to break up 'normal' life. It doesn't matter if that adventure will cost you sleep or even dinner, you just need one.
Thankfully, there is a major adventure seeker living in the house, so, when the call came Monday, it was something to jump upon.
'Il Barbiere di Siviglia is playing at the Met Thursday night. Let's go!'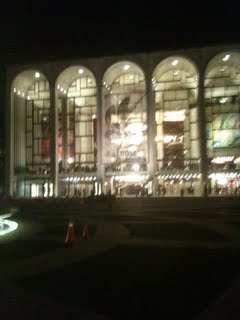 Sounds great. Let's do it. Of course, being in the middle of the week there was childcare, but since Grandmom and Grandpop jump at any opportunity to take care of the little ones, that was easy.
The hard part (if that really what it is) would happen Thursday afternoon/evening.
So, Grandpop got to the house by 4 p.m. It was time to hop in the car, pick up the true adventurer and hit the road.
Now, it takes about three hours (give or take) to make it to New York City. Still, it's an easy ride up I-95, then over to the turnpikes.
One quick word on the PA Turnpike. We got off I-95 at Bristol, grabbed the pay ticket, then, less than a 100 yards on the road had to pay $1.30. Kind of ridiculous.
So, despite running through rush hour, the ride to New York was relatively smooth. Well, as smooth as it could be until you hit the exit for the Lincoln Tunnel. It took about a half hour to get into the tunnel, then came a laugh. There was a Mercedes with a Florida license plate driving in front of us. Now, that's probably not unusual, but this one had a bumper sticker that read 'I miss Reagan!' Now, how could you miss Reagan and why would you put a bumper sticker on a Mercedes. It takes all kinds.
If you've never been to Lincoln Center (the home of the Metropolitan Opera), I suggest you take a ride up. It's awe-inspiring.
The tickets were waiting and, with plenty of time to relax, we couldn't wait for the show to begin.
Now, not having really listened to any opera before two years ago, I can't be called a big fan. I've learned to appreciate it immensely (Thanks again, to the adventure-seeker).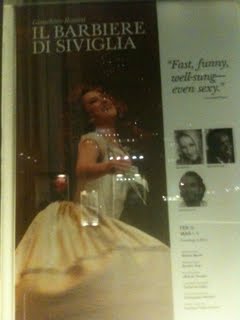 The show was fantastic. It's really amazing how the voices and music can meld together to tell a story. It doesn't matter if it's all in Italian and you don't understand a word of Italian, it's easy to get caught up in the story.
About three-and-a-half hours later, it was time to make the return trip.
Sure, we were tired, hungry and bit cranky (hey, I'd been up for nearly 24 hours), but, sometimes, the adventure is worth it all.
Even after pulling into the driveway at 3:30 a.m. (the same time my alarm usually goes off every morning), it was worth everything. It was a fantastic night.
After a winter (and so far, 2010) of absolute darkness, it was a fantastic night.
Thanks, adventure-seeker.